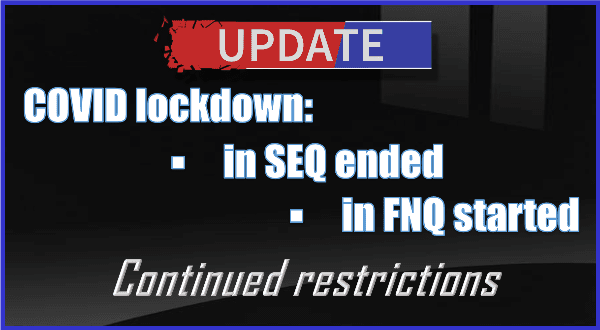 – Monday, 9th August 2021 –
While the lockdown in the 11 South-East Queensland local government areas ended at 4pm on Sunday, 8th August 2021, a three-day lockdown commenced at the same time in the Cairns and Yarrabah local government areas. The same restrictions that applied during the South East Queensland lockdown are now being applied in Cairns and Yarrabah. The exception to this is that two visitors are allowed within homes at any one time.Ongoing restrictionsWhile the lockdown has ceased in South East Queensland, some restrictions continue to remain in place. These include the following: Wearing of masksA mask covering the nose and mouth must be worn at all times:
Outdoors (including public transport and rideshare) unless you are alone or with members of your household, eating or drinking, doing strenuous exercise, or when it is unsafe
Indoors including workplaces (even when physical distancing is possible) unless it is unsafe or you are working alone in a closed office
Schools and early childhood education and care services where masks must be worn by all teachers and staff, and by students attending high school
Please note that residential care services are regarded as 'workplaces' which means that staff must wear a mask. There are some exceptions to this e.g. when a mask may be removed in order to ensure clear enunciation. Staff are required to exercise judgement and, as a rule, to err on the side of caution and to continue wearing a mask wherever possible. If your organisation is experiencing any difficulties in sourcing masks, you are asked to contact your DCYJMA contract manager.Indoor and outdoor eventsVenues such as stadiums, convention centres and amphitheatres will operate in accordance with COVID safe site specific plans that will generally state requirements for ticketed admission of no more than 1 person per 4 square metres indoors and 1 person per 2 square metres outdoors, and for patrons to wear masks at all times except when eating or drinking during which times they must be seated.No community sports are to be conducted.School sports can be held only with students from the same school.Other gatheringsUp to 10 people may gather in private homes (including those who reside within the home) and in public places. No visitors are permitted to enter the homes of those who have been quarantined.Weddings and funerals may be attended by a maximum of 10 people including those who are officiating.Businesses and other venues (including places of worship, restaurants, gyms, hairdressers, beauty and personal care services, etc) may operate with restrictions applied to the number of people who may enter the venue at any one time.Educational facilitiesUniversities and TAFEs are open. Schools and early childhood education and care services must each determine who may enter their grounds.Staying up to dateStay up to date with the latest health advice, monitor news reports including the regular announcements by Dr Young, and follow Queensland Health on Facebook or Twitter.