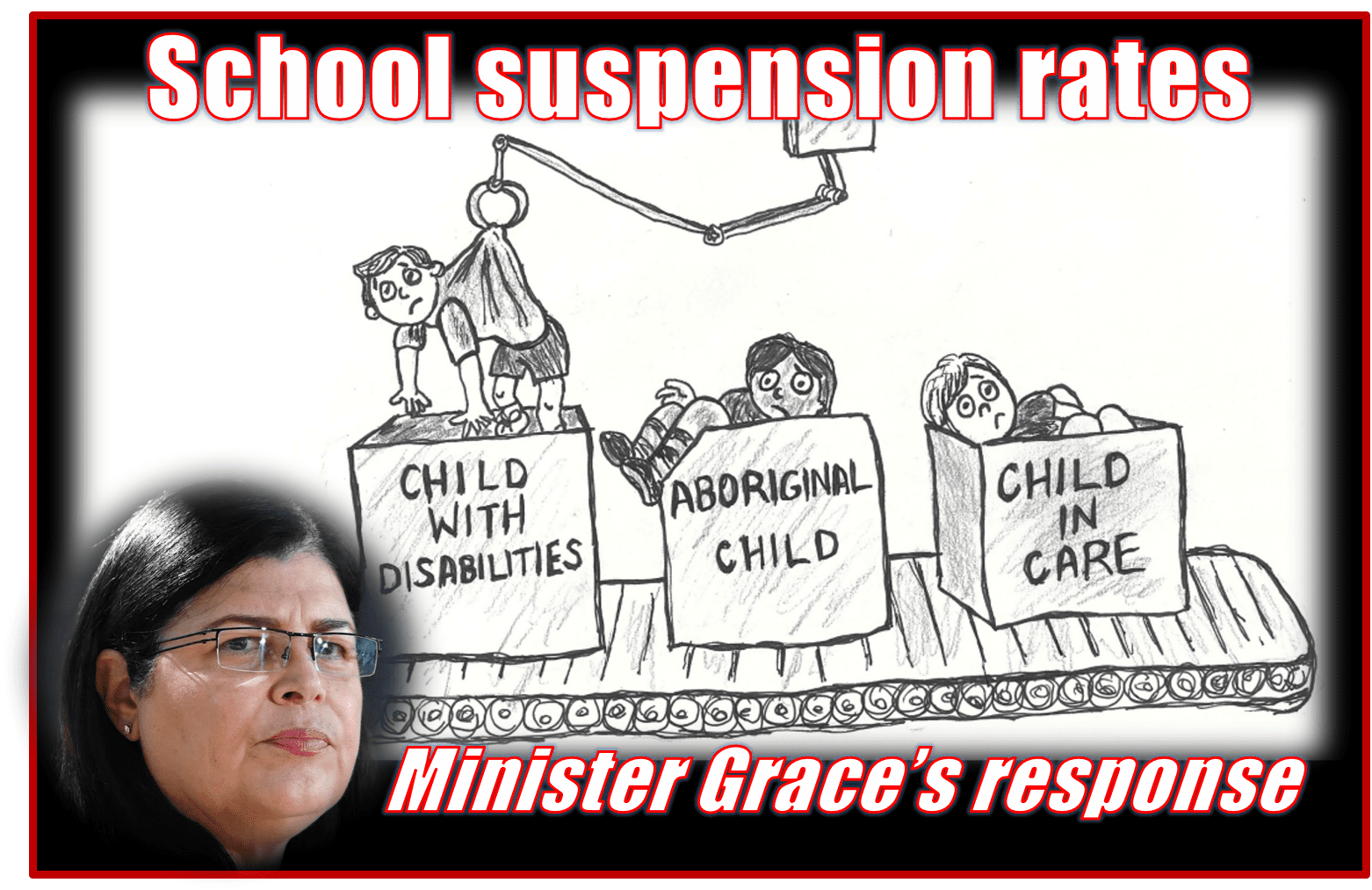 As reported on in our 14th April edition of eNews, alarming figures have been released indicating that children in care are six times more likely to be suspended from school than the general population, and both Aboriginal and/or Torres Strait Islander children and children with a disability are three times more likely to be suspended.
Education Minister Grace Grace has responded to the obvious and extremely significant concerns arising out of these figures. In an article published by the Courier Mail on 20th April, Suspension rate review – Vulnerable students at risk, Minister Grace was reported as saying, "I must admit, I've had concerns about some of the higher suspension rate, particularly in relation to our younger primary school children.
"This has been on my board in the ministerial room for quite some time, we are diving very deeply into this matter and we've started this work well over twelve months ago."
When asked if the Education Department's internal review of suspension rates would be expanded to allow for public debate of the issues and the stories of parents and students to be told, possibly via a parliamentary inquiry, Minister Grace said, "At this stage we're not there yet but hopefully we'll be there soon."
PeakCare intends corresponding with Minister Grace in the very near future for the purposes of both raising our concerns about the suspension rates and offering our advice and assistance in rectifying this dreadful problem.
If you share PeakCare's concerns, tell us by entering your views here, anonymously if you prefer.
Let us know about your experiences of the high suspension rates and their impact – especially in relation to children in care, Aboriginal and/or Torres Strait Islander children, and children with a disability. Let us know whether or not you think that Minister Grace's response is sufficient. Let us know about alternative approaches you are aware of that are achieving much better outcomes for children and your ideas about the best ways forward.
Tell us your views, preferably by 10am tomorrow Friday, 22nd April, and we will relay them on to Minister Grace in the correspondence we send to her. Speak up and make your views known.