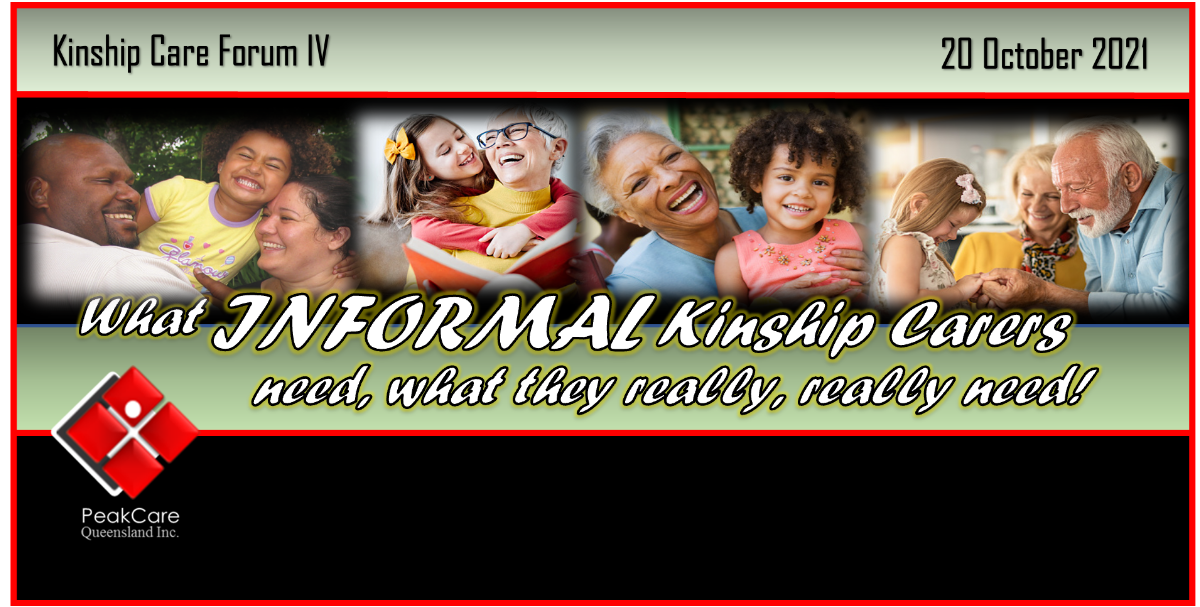 Queensland Kinship Care Forum IV – What INFORMAL Kinship Carers need, what they really really need! 
On Wednesday, 20th October 2021, PeakCare held our fourth Kinship Care Forum and seeking to answer the question – What INFORMAL Kinship Carers need, what they really, really need?
Held during Anti-Poverty Week, this online forum shone a light on the needs of these dedicated carers, the children in their care, and focus on what could be done better to acknowledge and more appropriately support the thousands of Informal Kinship Carers who are currently falling between the cracks.
Who are Informal Kinship Carers?
While approximately 12,000 children and young people in Queensland are living away from home, many thousands more are living in informal kinship care arrangements. Informal kinship care is provided by grandparents, aunts, uncles, brothers, sisters, cousins, and other relatives who provide safe and loving care to keep children and young people in their families and out of the child protection system.
Informal Kinship Carers often make significant sacrifices including postponing retirement, withdrawing from their superannuation, changing careers, disrupting relationships, and being forced into poverty to keep their family together. These informal carers are falling between the cracks of Federal and State Government responsibility to fund the support they, and the children in their care need.
This important forum featured an impressive line up of local, national and international speakers including:
Rachel Siewert, former Senator and Chair of the Community Affairs inquiry into Grandparent Carers
Elaine Farmer, Emeritus Professor of Child and Family Studies, School for Policy Studies, University of Bristol
Jill Worrall, MSW, Ph.D. Retired Senior Lecturer, Board Director, and Social Work Consultant, New Zealand
Kate Bundle, LLB, Chief Executive, Grandparents Raising Grandchildren Trust New Zealand
Dr Anita Lumbus, Research and Development Officer, Wanslea
Carol Vale, Managing Director, Murawin Pty Ltd
Dr Meredith Kiraly, Honorary Research Fellow, University of Melbourne
Dulcie Bronsch, Senior Project Officer, Time for Grandparents Program, UnitingCare
Stay tuned for more about learnings from the forum. PeakCare sincerely thanks the speakers, attendees, and carers who participated.